---
The Bolton Brothers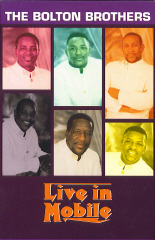 Live In Mobile
The response we received to our review of the video by Willie Banks and The Messenger was just overwhelming. And for that we thank you. It seems that many want us to go back and review more of the older videos. Well, this month we did and decided to review the video The Bolton Brothers' Live In Mobile.

Every now and then a group comes on the scene and elevates gospel quartet music to another level. This was true of The Bolton Brothers. Their video Live In Mobile was released in 1996. The CD and DVD immediately made The Bolton Bothers a household name. They followed the 1996 release with Live In Mobile 2, which was released in 1999. And, in 2001 they recorded Revival in Atlanta. However, none of the subsequent recordings could match the powerful, masterful, anointed Live In Mobile.

The Williams Brothers were the producers of Live In Mobile. They did for this project what was done for The Cantons' Live In Memphis. They made it one of the best gospel quartet recordings to be released during that time.

On this video there are thirteen songs – "Praise His Name," "Cornbread & Black-Eyed Peas," "God Has Smiled On Me," "If He Still Cares," "Feel Like Running On," "Just To Know Him," "One More Time," "Bring Your Burdens," "If You Move, I'll Fall," "Lord Done Delivered Me," "Heavenly Father," "Hymns," and "Going On In Jesus Name." The video is 90 minutes in length. The group is at their best on each song. Each brother gets the opportunity to share in lead duties. Their father joins them on "Lord Done Delivered Me.

The quality of the sound is great. There are no highs or lows in the sound quality. The recording level is consistent throughout the video. The lighting is also great. You can clearly see the entire group, with no blind spots. In addition, the close-ups of the group's members are one of the best.

If you like good hard hitting gospel quartet music than you must add this video, Live In Mobile, from The Bolton Brothers to your collection. Since the recording, one of the brothers has died. So, you will never see this particular line up again. Don't miss the opportunity to add this video to your collection.

The video is priceless. We give this video a 10 out of 10. To purchase your copy of this video click The Bolton Brothers.


Top 5 Gospel Quartet Videos

There's Not A Friend

Tell The Angels

Catch on Fire!

Live At The Rest

5. Bill Pinkney's Gospel Drifters

What A Wonderful Change!
---
Copyright © 2006 Gloryland Gospel Music
All rights reserved. Do not duplicate or redistribute in any form.