Our hearts are sadden because of the passing of our friend and one of, if not the greatest, gospel singer, Joe Ligon of The Mighty Clouds Of Joy. We rejoice in knowing that through the music he left us, his voice "will never old." As a tribute to the legacy of Joe Ligon, listen to a special broadcast featuring many of the songs of The Mighty Clouds Of Joy all this week (December 12 – 16) at Gloryland Gospel Radio.
*****
December 1, 2016
Just a reminder, from December 1 to 31, 2016, Gloryland Gospel will air an all quartet gospel Christmas broadcast on Gloryland Gospel Quartet Radio.
*****
December 1, 2016
Well, the last month of the year is upon us. It has been a very active year for gospel quartet music. And, this month, from a gospel quartet standpoint, is sure to be just as active as the past eleven months.
*****
November 24, 2016
Happy Thanksgiving!
*****
November 14, 2016
From December 1 to 31, 2016, Gloryland Gospel will air an all quartet gospel Christmas broadcast on Gloryland Gospel Quartet Radio. If you are a quartet singer or gospel quartet group that have recorded any Christmas songs, and if we do not have your songs, send the project to us. We will include your music in the broadcast.

This year we have new Christmas music from the The Angels Of Praze, The Dynamic Abraham Brothers, Kira, Jameson Van Horn, Loretta Allen, and many more. Send your CD to Gloryland Gospel Quartet Radio, Post Office Box 25567, Columbia, SC 29224, or email your copyrighted mp3 file to us at radio@glorylandgospel.com, and we will share your music with the world.

Then listen to Gloryland Gospel Quartet Radio and enjoy an entire month of the very best in quartet gospel Christmas music. And, if you desire to satisfy your Gospel Quartet urge for non-holiday music, tune into Gloryland Gospel Radio. We will be broadcasting the Gloryland Gospel Top 20 Chart projects on Gloryland Gospel Radio from December 1 through 10.
*****
November 1, 2016
Gloryland Gospel will feature a very Special Broadcast on Thanksgiving Day – Thursday, November 24, 2016. From 12:01 AM to Midnight on Thanksgiving Day, Gloryland will air music exclusively by The Mighty Clouds Of Joy and The Pilgrim Jubilees. That's right, all day on Thanksgiving Day, you'll be able to enjoy the music of The Clouds and The Jubes. So, why not plug the speakers into your PC, tablet or smartphone and enjoy your turkey with the very best of traditional gospel music. What a great alternative to football. Just tune into
*****
November 1, 2016
November is upon us. This is the month that most begin to get ready for "The Holiday Session."ť This is also the month we celebrate Thanksgiving. Have you ever actually read the initial Proclamation that started the Thanksgiving tradition? Well, if not we encourage you to do so. You will find words encouraging giving PRAISE to our God. You will also find Thanksgiving described as "a day of solemn THANKSGIVING to GOD for all his mercies. . ."ť So, as you celebrate Thanksgiving Day this year make sure that you give God the praise.
*****
November 1, 2016
November is here. The political buzz this November is the upcoming election. For Gospel Quartet fans, buzz this November is about the all the great concerts during the upcoming holidays.
*****
October 1, 2016
During the month of October, we will be featuring artists that are on a couple of the smaller labels. From October 17 – 21, we will feature artists from First Choice Gospel Records. And, from October 24 – 28, we will feature artists affiliated with Darrell Jones Music. Listen to the broadcasts at Gloryland Gospel Quartet Radio.
*****
October 1, 2016
October begins with several major events in gospel quartet music. The most talked about event, as always, is the legendary Swanee Quintet's Anniversary. Their Anniversary is always on the First Sunday in October in Augusta, GA. This year's celebration features Doc McKenzie and The Hi-Lites, Lee Williams & The Spiritual QC's, The Canton Spirituals, The Gospel Legends, Darrell McFadden & The Disciples, Spencer Taylor & The Highway QC's, John P. Kee and The Legendary Singing Stars. This is the Swanee's 77th Anniversary. It will be held, as it the past, at the Bell Auditorium, in Augusta, GA. For more information about the program visit the Swanee's website.
*****
September 28, 2016
Just received the full project on The Humble Sons titled Breakthrough. It is a LIVE recording. And, you can feel the excitement of the crowd during the live recording. We've had their single "Blessing Me" in rotation since 2015. The live version on the full CD is a great song. In fact, the entire CD is packed with good ole quartet gospel music. By the way, the group is not on the 4 Clouds Record label.
*****
September 28, 2016
Jerel Drye & Persuaded have a 3-play that was issued by 4 Clouds Records. The group is based out of Charlotte, NC. Their musical style is a mix of traditional and contemporary. Listen to the songs during the Quartet Mix broadcast at Gloryland Gospel Quartet Radio.
*****
September 1, 2016
September has been designated Gospel Music Heritage Month. Of course, gospel quartet fans know that each and every day is a day to celebrate the rich history of gospel music. Read the first resolution passed by Congress designating September as Gospel Music Heritage Month.
*****
August 30, 2016
"Live" At Home In Memphis is the newly released CD by The Southern Sons. You can always depend on the Sons to deliver nothing but the best in traditional gospel music. And, this CD does not disappoint the listeners. Your collection from the Sons will not be complete without this CD. It is simply outstanding.
*****
August 23, 2016
*******
FOR IMMEDIATE RELEASE – SRT ENTERTAINMENT
STELLAR AWARD WINNING GOSPEL HIT-MAKER REV. LUTHER BARNES TO RELEASE FIRST CHOIR PROJECT IN A DECADE NEW ALBUM FEATURES TOP 20 HIT SINGLE "GOD'S GRACE" AND RE-AFFIRMS THE CONTEMPORARY RELEVANCE OF TRADITIONAL GOSPEL THE FAVOR OF GOD PRE-ORDER AVAILABLE NOW!
The Reverend Luther Barnes comes from a notable gospel background. His father, Bishop F.C. Barnes, wrote and scored a hit with the gospel standard "Rough Side Of The Mountain." Raised in the church from a young age, Rev. Barnes felt called to music ministry and embarked on a hit-making career as lead singer, producer, songwriter and director of the "quartet" gospel group Luther Barnes & The Sunset Jubilaires. He also founded The Red Budd Gospel Choir which also scored a string of hits, including the Stellar Award-nominated "Somehow Some Way." Now Rev. Barnes steps forward with a brand new choir, the Restoration Worship Center Choir, and a stunning set of new compositions. The Favor Of God, his first choir project in a decade, is to be released by Shanachie Entertainment/SRT Entertainment on Sept. 9, 2016. Produced by Rev. Barnes and Derrick Adams, the album is a beautifully arranged and performed work featuring live strings and horns on several tracks, a work of extraordinary quality that re-asserts the relevance of traditional gospel. The lead single, "God's Grace," hit the gospel radio Top 20 in record time and seems destined to be another major landmark in Rev. Barnes' magnificent gospel career.
Given the quality of Rev. Barnes' work and his commitment to his ministry, one wonders why it took so long for him to step forward with this new project.
"Although it has taken a minute for me to bring forth another musical project," Luther says, " I believe the delayed process was nothing less than God's perfect will. The birthing of our church, Restoration Worship Center, has brought with it new life and purpose, which is extremely evident in these songs. The Restoration Worship Center Choir and musicians are awesome. We have truly been blessed by the Favor of God."
Indeed the diversity and all-around quality of the music on "The Favor Of God," makes it well worth the wait. Ranging from rousing hand-clapping, foot-stomping tracks such as "One More Time" to the heartfelt, lush, orchestrated "God's Grace," The Favor Of God is truly a tour-de-force.
"Luther Barnes is the ultimate musical trifecta," says SRT Entertainment's D.A. Johnson. "He is a phenomenal producer, prolific songwriter and consummate artist; his smooth velvet voice is one of the most distinctive, recognizable voices in the history of record music, ranking him amongst the greatest balladeers of all time."
Luther Barnes was born in Rocky Mount, North Carolina in 1954, the son of the late Bishop F. C. Barnes and the late Willie Mae Barnes, who instilled in him a desire to trust and obey God's word. At the age of nine he felt the call of music ministry, feeling he had been given a special gift from the Lord. On graduating from high school he became the lead singer of the successful gospel quartet The Sunset Jubiliares, who went on to score a string of gospel hits.
Luther's style was notable for its refinement and dignity; he did not employ the flamboyant style of many other gospel vocalists. He pursued and attained a degree in Music Education from St. Augustine's College in Raleigh, North Carolina and in 1985 formed the Red Budd Gospel Choir, who broke through with such hits as "I'm Still Holding On," (which features a lead vocal from his wife Deborah Barnes), "So Satisfied, " Spirit, Fall Fresh," "That Other Shore," "Somehow Someway" and "No Matter How High I Get" (written by Bobby Womack). In 2006 he accepted a call into the preaching ministry, following the leadership of his father. But he continued his music ministry, which took him all over the country, garnering a multitude of awards and honors including a Vision Award, Stellar Award, and a GWMA Excellence Award. He also received a Grammy nomination and a Gospel Heritage Award. Having produced over twenty-eight CDs, he found time to perform or record with such gospel greats as Shirley Caesar, Kirk Franklin, The Brooklyn Tabernacle Choir, John P. Kee, and The Mighty Clouds Of Joy.
He established the Restoration Worship Center in Rocky Mount, North Carolina in 2014 and serves as its Senior Pastor.v Even though Rev. Barnes is steeped in the gospel tradition and in many ways is continuing that tradition, he sees himself as an innovator. As he told journalist Bill Carpenter in Carpenter's Uncloudy Days: The Gospel Music Encyclopedia: "At an early age, I would always listen to the difference between the sound of gospel music and the sound of popular music. The Temptations and all those artists sounded so much better. I said, 'Goodness, why can't gospel music come up and be just as right musically as the other forms of music? I thank God for people such as Kirk Franklin and James Cleveland who have helped us get our act together and upgrade our music."
Always, modest, the Rev. Barnes did not mention himself as one of those who is elevating gospel music. But, as The Favor Of God shows, he definitely is!
*******
*****
August 12, 2016
Donovan Adams of 4 Clouds Records continues to add groups with great potential to his label. The recent signees, Unique Soundz f Of Huntsville, AL and The Shaw Boyz, should be groups of the future that will continue to elevate traditional gospel quartet music. Listen to the single during our Quartet Mix this month and our New Music Broadcast in August and September.
*****
August 1, 2016
We encourage gospel quartet groups (and singers) to announce from the stage that they want their fans to call their local radio station and request their music. This has to be done regularly. Once, is not enough. Every time you stand before an audience, ask them to call their local radio station and request to hear your songs on the radio. And, tell those present what songs to request. If this is done, it just might get radio stations to start playing more gospel quartet music. It is worth the effort.
*****
August 1, 2016
August is sure to be another exciting month for the gospel quartet genre. Yes, there will be gospel quartet concerts every weekend in many cites, towns and hamlets across the nation. In addition, several independent projects are slated to be released this month.
*****
July 25, 2016
Keith "Wonderboy" Johnson's newest project is titled Timeless Music Movement, Vol. 1. The project is mostly a collection of outstanding songs previously recorded by Keith. You will want to add this project to your collection.
*****
July 16, 2016
Pastor Darren Farmer & The Quartets recently released the song "Chilly Winds" featuring Keith "Wonderboy" Johnson. It is an outstanding rendition of a song previously made popular by the Wonderboy.
*****
July 15, 2016
Just received the CD Journey by The Chosen Ones of Hopkins, SC. The Chosen Ones are a young group that has found their niche in the music industry. Journey is traditional gospel music that is pleasing to the ear.
*****
July 13, 2016
ECKO RECORDS PRESS RELEASE

For immediate release:

Ecko Records & Center Stage Gospel TV will provide sponsorship to the Gospel Music Workshop of America via the Quartet Division and Gospel Announcers Guild for the 2016 GMWA Convention.

We invite all radio announcers and media professionals to attend the Ecko Records & Center Stage Gospel TV Afternoon Showcase, which will take place on Wednesday July 27th, 2016 4:00pm to 6:00pm in the Birmingham Jefferson Convention Complex - "BJCC", 2100 Richard Arrington Jr. Blvd. N, Birmingham, AL 35203 - Meeting Rooms N &O.

The showcase will feature Ecko Recording Artists

George Dean & G4
The Echoaires
Patrick Hollis & United
The Legendary Lighthouse Gospel Singers
The Eternal Light Singers

Ecko Records and is proud to work in cooperation with the nation's largest group of Gospel media professionals, the prestigious Gospel Announcers Guild, and to participate in the 2016 GMWA Convention. We hope to see you there!
*****
July 08, 2016
Rachel M. Jones And God's Favor just released their newest project tilted In Your Presence. This sophomore project is sure to garner the group attention for all over the globe. Listen to the entire CD during our Female Gospel Music Broadcast starting on July 14.
*****
July 05, 2016
Just received the new single "He Laid His Hands On Me" by Jessie Scoggins, Jr. & The Brothers In Christ. You need to get 'your hands' on this one. It is a great song. Listen to the single during our New Music Broadcast beginning on July 11.
*****
July 04, 2016
Happy 4th Of July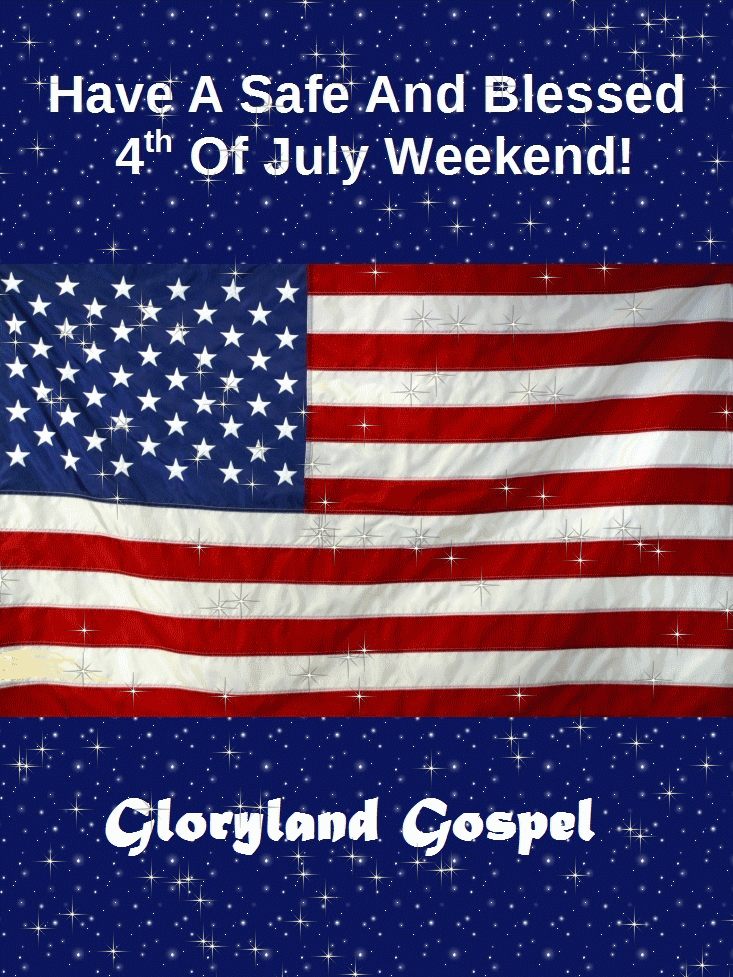 *****
July 01, 2016
One of the major Gospel Quartet event for July is the 51st Anniversary of Doc McKenzie & The Hi-Lites. The Anniversary Program this year will be held in three (3) cities. Visit the group's website for the lineup and the cities.
*****
July 01, 2016
July is here. There have been a lot of activities relating to quartet gospel during the past six (6) months. There have been lots of gospel quartet concerts. And, sadly, there have been many deaths in the quartet gospel community.

But, it is reassuring to know that God is still in charge. And, knowing that will allow us to move forward into the next six (6) months of 2016 and enjoying great gospel quartet music along the way.
*****
June 28, 2016
Pastor Shirley Caesar receives a Star on the Hollywood Walk Of Fame.
*****
June 01, 2016
The Voices Of Harmony Of Brooklyn, NY were 'a force to be reckoned with' in the 60s and 70s. They were known for their tight harmony background. Thanks to Clarence Connor, one of the lead singers for the group, along with collector John Glassburner, we were able to get our hands on the songs from 2-45s released by the group. Listen to the songs during the Quartet Mix broadcast at Gloryland Gospel Quartet Radio. And, read more about this group at Gloryland Gospel Blog.
*****
June 01, 2016
In recognition of Black Music Month, Gloryland Gospel will feature special broadcasts throughout the month. From June 17 to June 19, we will air an all MCG Records broadcast at Gloryland Gospel Quartet Radio. We will feature songs from the Golden Era of Gospel Music from June 11 to June 20 at Gloryland Gospel Radio. And, we will air music from independents and small labels from June 20 to 22 at Gloryland Gospel Special Gospel Quartet Music Radio broadcast.
*****
June 01, 2016
"Spurred by the songwriter and record producer Kenny Gamble, President Jimmy Carter in 1979 designated June as Black Music Month." Thus, June has become the designated month to celebrate the rich history of Black Music. This is the month the nation has set aside to place emphasis on the history, artistry and culture of Black Music. Well, for those that visit this site you know that here each month we celebrate the history, artistry and culture of traditional gospel quartet music. We do, however, encourage each of you to take the time this month and tell others (particularly young people) about the music and artists that make up the gospel quartet genre.
*****
May 25, 2016
"Come On Children" is a recently released single by Minster Robert Johnson out of Miami, Florida. Minister Johnson is not only a vocalist, but also a great musician. Listen to the single during our Quartet Mix this month and our New Music Broadcast in June.
*****
May 8, 2016
HAPPY MOTHER'S DAY!
*****
May 3, 2016
The group Bless-Ed of Appling, GA, formally released their debut CD titled Stronger. The project consist of 10 songs that will have you rejoicing and having an awesome praise and worship experience with these ladies. The group will celebrate their 16th Anniversary on May 15, 2016. Check out the group and the project at www.Bless-Ed.com.
*****
May 1, 2016
May will be another exciting month for gospel quartet fans. There are many gospel quartet events occurring around the country this month. There are a numerous Mother's Day programs scheduled for the Mother's Day Weekend. In addition to these events, many groups around the country are celebrating their anniversary this month. There is no shortage of activities for those desiring to attend a Gospel Quartet song service this month.
*****
April 26, 2016
MALACO has released a new single on Roy and Revelation. It is titled "Will You Be Ready." If you liked the group's song "Thank You," you will surely enjoy "Will You Be Ready."
*****
April 1, 2016
Let's Celebrate! Gospel Promoter, Record Label Owner, Radio Angel, Gospel Historian, and all around outstanding gentleman, DEACON SHUMPERT WATTS, will celebrate his birthday on Saturday, April 2, 2016, with a gala event in Atlanta, GA. Happy Birthday Deac!