---
The Williams Sisters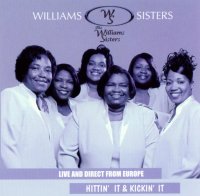 Live & Direct From Europe

It's been a long time coming but the quartet industry has finally been blessed with the return of Philadelphia, Pennsylvania's own Williams Sisters. It's been several years since their national hit "Live On The East Coast" was released for the First Lite Record company in the late 1990s. Just like any other group that returns from a successful recording, The Williams Sisters had fairly big shoes to fill with this new release. The question then stands, where the Williams Sisters able to fill the shoes of their previous hit recording?

Now recording for Tony Beck's Messiah Record label, the Williams Sisters who by the way are not related to the Williams Brothers of Smithdale have presented a very tight 16 song project. It is obvious from the number of songs that the listener will have plenty to choose from to find a favorite. Production wise, this project is much better than their previous release as the group sounds much fuller. I do have to say though that the crowd participation on some songs is a little exaggerated, suggesting some studio magic in some spots.

As you browse the song titles you will immediately notice a great deal of the songs from their "Live on The East Coast" release are on this project. But don't be fooled my friends, these remakes are absolutely awesome. Song like the awesome "Step By Step", "Never Lost A Fight", "Take Me Higher" and the super hit "Jesus Will Pick You Up" are given new energy. Besides the production quality, each song seems to have that special ingredient that makes it even more enjoyable.

While the project does include the aforementioned remakes, there are some really slick new songs as well. Definite standout cuts are the head bobbing groove "My Change", the rockin' number "Power In The House", and the reminder in song "Perilous Time". While the majority of the lead vocals are handled by Renee Williams this project also showcases the talents of Juliet Williams on several numbers like the mid-tempo number "I'm Ready" and the country influenced "Run This Race".

On the whole the project is a great return effort from the Williams Sisters. Those in radio will remember that a major issue on their previous project was the length of the songs. This problem was definitely kept in mind on this new release as the majority of the songs fall within the radio friendly length of 4 minutes. One will also notice some different styles being introduced into the group's performances. This added sound variation definitely works to their benefit.

I give The Williams Sisters "Live & Direct From Europe" a 9.5 out of 10. Since the project is brand new it might not be available in all stores as of yet. To order this project today contact Messiah Records at (215) 880-9215 to get your copy today!! Click on the title to hear "

Power In The House".