---
Timothy Garner & The TraVails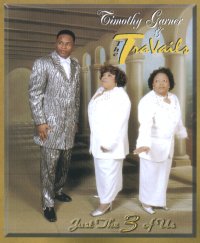 Just The 3 of Us
After almost five years of anticipation and waiting Minister Timothy Garner & The Travails have returned to the recording scene. After hitting the country with the unbelievable sounds of their previous release "Inspired By God" the Travails have put together yet another hit recording. Having spent some time touring with the Mighty Clouds of Joy Tim Garner's fan base has definitely grown by leaps and bounds in the last few years. His God given ability to express himself vocally has left audiences spell bound all over the United States. Some say his squeals and squalls rival only those of Mighty Clouds of Joy legend Joe Ligon.
This project kicks off in grand fashion with a new arrangement of an old selection. Many who where really into Gospel music during the 1970s know that the classic selection "Hello Sunshine" was definitely hot among quartet and choral groups alike. This arrangement focuses on the "Son" shining rather than the "Sun". Complete with tight background runs and spirited singing by Tim Garner this opening selection definitely leaves the listener at the edge of their seat. Following this selection is the contemporary sounding "Just The 3 of Us". While listening to this song even the must rigid traditionalist has to enjoy the arrangement and lyrical improvisations. As opposed to many of the other selections on this project this one finds Tim and his mother Ophelia really in a more laid back vocal mode showcasing their wide range of vocal abilities.
The group then goes for the kill with the hard driving "Good Christian". Now this selection finds Tim Garner in a mode that all quartet fans just love. His unbridled Holy Ghost filled lead vocals literally grab you and force even the casual listener to pay attention. This call to Christian purity starts in classic fashion but you soon find out that this young man is no shy soldier for the Lord. During the run Tim goes into a powerful testimony that literally serves to propel this song into killer mode. If you can keep still after listening to this song you might need to check your pulse. After literally tearing the house down then rebuilding it again the Travails move into the beautiful story in song "Willie Mae (Sometimes I Wonder)". This song tells of an old lady's determination to look to the hills in the midst of ridicule and poverty. Though we might not all be able to relate to the poverty and even the ridicule we all know that as long as we have Jesus that's all we need.
Like the old lady in the selection this song is sure to bring you to tears. For when we even begin to look over our lives we see where sometimes we are up and other times we are down. The Blessing comes not in the trouble but in the conclusion. The God we serve has enabled us the opportunity to call him Friend. As Tim states in the song you may be up today and down tomorrow but with Jesus our outer conditions seem to matter less and less.
Other songs of note include "God Did It For Me", "Shine on Me", and "When The Lights Go Out". While there are definitely others that can be mentioned these three should suffice. "God Did It For Me" is what I would have to call Tim's Testimony song. This song tells of Tim Garners near death illness in 1995 and literally every other blessing that God bestowed upon him. For those who feel that God is not still in the healing business this powerful testimony is definitely more than enough encouragement. The next two selections "Shine on Me" and "When The Lights Go Out" are very closely related. "Shine On Me" finds Ophelia "Mama" Garner to the lead duties in spirit filled fashion. This classic ballad is sure to stir your soul as you think of when God's light first came down on you. "When The Lights Go Out" picks up where the previous selection "Shine On Me" leaves things. With the screamin' pipes of Time Garner the song opens in grand fashion.
To close the recording the Travails include a "Live" song entitled "Be Kind" that pays tributes to mothers. This seven minute ballad finds Tim Garner once again showing his vocal control and skills to the Glory of God. I Give Timothy Garner & The Travails "Just The 3 of Us" a 8.5 out of 10. You can pick this project up by calling the Powerhouse Gospel Group at 1-866-58POWER .