---
Rev. Andrew Cheairs & The Songbirds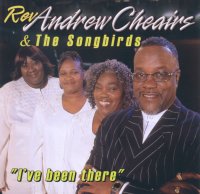 I've Been There "LIVE"

Well friends the nation's most well know family quartet group is back. For over 3 years Rev. Andrew Cheairs and The Songbirds went without a new recording simply traveling on their reputation as a first rate house wreckers. Anyone that has witnessed the ministry of Rev. Andrew Cheairs & The Songbirds knows that once they leave the stage things are never the same. As with most Songbird projects, each and every song is an exciting musical experience both vocally and instrumentally.

While each and every song could be mentioned in this brief review their are several that really disserve discussion. While the project begins in a somewhat laid back fashion with Pricilla Polk and Anjelina Cheairs taking the lead, things quickly shifts into drive mode. Anyone that knows Rev. Cheairs knows that this powerhouse lead vocalist is at his best when the Randy Polk's bass is thumping and Danny Lewis is wailing away at the drums. The first song to introduce the patented Songbird groove is a new composition "The World Can't Do Me No Harm". While Rev. Cheairs is known to sing this song at St. Paul Missionary Baptist Church where he serves as Pastor, the song has been injected with a serious drive for this "Live" recording.

Though the groovin' mid-tempo drives, and foot stompers are great, Rev. Cheairs is also well known as a careful and cool ballad leader. In fact the title cut "I've Been There" is a laid back testimony of trials and tribulations that we all experience. It is with this cut that you will also notice the unbelievable tight vocal harmony of the Songbirds and the disciplined musicianship of the Songbirds band. In fact since we are speaking about the band they finally get a song where they are able to show their background singing ability. All I can really say is look out Songbirds these guys are on their way. On "He Done So Much" the band sings background for Rev. Cheairs and special guest Harvey Watkins Jr. of the Canton Spirituals. This song has that patented Canton Spiritual feel well suited for Deacon Watkins to lay his stamp on it. Harvey's vocals on this and the Songbirds most well known number "He Rose" can easily be characterized as laid back yet forceful. His new level of Ministry is evident as he speaks of the changes God has made in his life.

Other songs of note include the only Choir song on the project "Let's Praise Him". Many times quartet fans move to the next track when they hear a choir but if you do that on this cut you're really missing a great driving number. Rev. Cheairs own Saint Paul church Choir really rocks the house! As is the case with many group's that have been ministering down through the years a "Live" recording is a great opportunity to bring some of the group's lesser known songs to the forefront. On this the group's third "Live" recording Rev. Cheairs resurrects a two part version of "Good Ole Days" from their early 1990s Blackberry project "Family" and the aforementioned "He Rose" from the "He Will Provide" project.

In terms of drive numbers the project has one that is nothing short of Rev. Cheairs at his best. "Tell Somebody " begins with a fiery sermonette and reaches a breaking point filled with plenty of squalls and spirit filled screams. After Cheirs fiery build up, the only other place the group could go was a foot stompin' hand clappin' drive number and boy does the good Reverend drive this number. Out of all the songs that have been mentioned this review wouldn't be complete if I didn't mention my favorite number "My God Is Calling". This is what I call old time quartet singing. A strum of the guitar gives Rev. Cheairs his key and the group goes to work on this jumping song. You've got to love the tight background and vocal manipulation throughout. My only complaint is why is this song only 2 minutes 46 seconds.

For those fans of hand clappin' screamin good old quartet gospel you will love this new CD by Rev. Andrew Cheairs & The Songbirds. I give Rev. Andrew Cheairs & The Songbirds a 10 out of 10. This project is available at all online store so feel free to take your pick or visit the News page and click on the album cover to order your copy today. Click on the red song title to hear "

I've Been There".