---
Lil' Willie & The Keynotes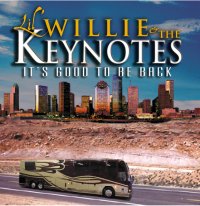 It's Good To Be Back

On January 10, 2001 one of the greatest and most well loved gospel artists left this land of death to claim an inheritance of life. This gentleman captivated artists with his infectious smile and ability to give his all every time he hit the stage. Obviously, we speak of the late Willie Neal Johnson longtime lead singer of the Gospel Keynotes of Tyler, Texas. With this review we mark a historic moment in that the legacy of Willie Neal lives on in the personage of Lil' Willie & The Keynotes. This brand new release coming from the camp of New Jersey based label Jet Records is nothing short of excellent. Slick production, spicy lead vocals and all this with that flavor that can only be termed the "Country Boy" style. Our hats are off to the powerhouse production team of Bishop T. Cooper (Owner/Executive Producer) and Steve Cooper (Owner/Producer/Songwriter).

This collection of songs begins with a few warm words of welcome from long time Keynote member Larry McCowin while ever so smoothly shifting into the title cut "It's Good To Be Back". For those who hear this song for the first time you will be amazed by how much Lil' Willie sounds like the late Willie Neal Johnson. As a admirer and friend of the late Willie Neal Johnson I was concerned over how I would receive such an uncanny resemblance. Well friends, I must say that my heart rests easy knowing that the Country Boy's sound will continue for generations to come. From Willie's hoarse speaking voice to his falsetto yelps and laughs Lil' Willie is by all means a living tribute to the Country Boy. Not only is the title cut smooth but it also serves to introduce the featured falsetto side-kick on this project. For the first time we are introduced to Mighty Clouds of Joy member Michael Cook temporarily wearing a Keynote uniform. For those familiar with Mike's style you already know that he fits into that Paul Beasley tradition of falsetto side kicks like a finely tailored suit.

The mid-tempo title cut then gives way to what will soon be a Keynote fan favorite "Wear A Crown". This beautiful ballad features some great vocal exchanges between Lil' Willie and the falsetto stylings of Mike Cook who just about sings his heart out. Peppered with vocal interjections by Lil' Willie this song is definitely worth your listen. Having featured a ballad, and a mid-tempo groove, Lil' Willie and the fellas give us a taste of a sem-drive song. "Didn't Have To Be This Way" is definitely in the tradition of the Keynote favorite "Lord I Thank You". That patented Keynote groove with a heavy bass emphasis is in full effect on this number. While listening you can literally see Willie rubbing his head and twisting about on the stage.

While literally ever song on this project is a good listen there a few other songs that definitely deserve mention. This review would not be complete unless we mention the beautiful ballad "Keep Me". On this song you can not help but notice the sincerity and care that is taken in ever aspect of the song. Everything from the background vocals to the perfect instrumental levels shows a great deal of care in the production of this monumental release. In a sense, while listening to this song I realized that Lil' Willie was not just a Willie Neal Johnson imitation. He is a powerful lead vocalist that really knows something about being kept by a loving Savior. Now if you're really looking for that Old School Keynote sound then you've got to check out "God Is Good". To close the project out Lil' Willie takes things back to where they started by voicing the sentiment of an entire industry in "We Miss You". This song even features some rare lead vocals by Larry McCowin. Though the song literally sounds like Willie Neal Johnson singing about himself I can truly join in and say "We Miss You" Willie. Thank you Lil' Willie & The Keynotes for keeping a tradition alive and sharing your gifts with the world.

For excellent production, clean crisp vocals, and the commitment to carry on the legacy of one of the greatest quartet music personalities, I give Lil' Willie & The Keynotes a 9 out of 10. Since the project is brand new it might not be available in all stores as of yet. To order this project click HERE. Click on the title to hear "

Keep Me".