---
The Gospel Four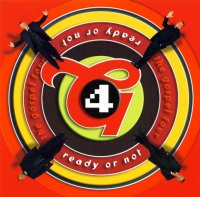 Ready Or Not
In the course of my time here at Gloryland Gospel I can not begin to count how many times I have called a CD release "highly anticipated". However, there are just those times when that famous phrase is really the case. For 2 years the quartet industry and fans waited for the release of The Gospel Four's "Live" recording in Atlanta Georgia from 2001. Even for those that did not attend the recording many of the songs have become favorites from the Gospel Four's "Live" performance since that night in Atlanta.
As was stated in the Concert Supremes review this month I have chosen projects that represents the lyrical shift in quartet. Known as one of the great song writers and arrangers or our time, George Dean has quickly become a household favorite. This project represents the Gospel Four's 2nd for MCG and they have definitely raised the bar. For those familiar with their entire recording career this project represents a sort of "Greatest Hits & More" release. Out of the 12 songs on the project 7 came from the group's earlier years on the E&J record label. In fact these projects can still be obtained by visiting Twin Towers website. While one would think that such a tactic would make for a repetitious project this would be an incorrect assessment. George Dean & The Gospel Four give new flavor to even the oldies.
The project opens to the riveting "Ready Or Not" and continues to impress with each track change. While all of the songs are awesome I do have to say it is the new compositions like "Empty Handed, Hearted, Headed", "Spread The News", and Littleton Dean's arrangement of "Loved One" aka "Love Ones Waiting". For anyone that has seen the Gospel Four you know they are a force to be reckoned with. These gentlemen continue to fuse the modern sound of 2003 while still remaining close to their quartet roots. The genius of George, Littleton, and Tony combine with the musicians to make for a sound unlike any other group. George's laid back head to the side lead will amaze even the most critical spectator.

Gospel Four classics that make their return appearance include my all-time favorite "Humbleness", "Ready Or Not", "New Walk", "Close To Thee", and "Going Home Another Way" to name a few. All that can really be said is look out for G4's next project for they have even more hits that many have never heard before. We're waiting for "Do It Now", "Beat Up", "We Still Need You", and of course "Life Must Still Go On".
Once again, there's no room for complaints on this one. If you're looking for a complete quartet music library then you must own The Gospel Four's new release "Ready or Not". The project is a perfect 10 and guaranteed to provide years of listening pleasure. Click HERE to purchase this release. To hear from this CD you may click on the song title "Empty Handed, Hearted, Headed".