---
The Sweet Singing Cava-Leers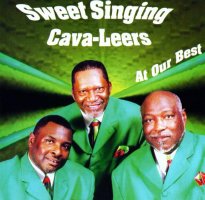 At Our Best
With most of the major full time traveling quartets coming from the state of Mississippi, it is very easy to fall into the trap of only mentioning group's from the Mississippi area and for that matter the East Coast. It is a joy to receive music from west coast group's and especially from group's that have been on the road for years singing God's praises. A group that fits that bill to the fullest is our feature for this month The Sweet Singing Cava-Leers of Los Angeles California. As a long time fan of this group's music I can truly say that faces have changed over the years but they have always sought to put out great sounding quartet music for the masses.
The group once led by the late Walter Cook is now led by the former Gospel Keynote member Rev. George Easley, Deitrich Lacey, and Leo Brothers. Many of you will remember that Rev. Easley was featured on a hit number a few years ago entitled "Please Lord" that was by far one of the most popular requests on Gloryland Gospel's quartet radio at that time. Well friends, Rev. Easley has done this number again and all I can say is if you thought he really poured himself out on the previous version this one is phenomenal. Now recording for Dwight Gordon's Quartet Boyz record label, The Sweet Singing Cava-Leers present a collection of quartet classics and new compositions.
The project opens with the up-tempo toe taper "Jesus On My Mind". This song is sure to have you clapping your hands praising God. The project really turns the corner with Rev. Easley's "Please Lord". This testimony in song tells of Rev. Easley's near death sickness many years ago. His testimony to God's present day miracle working capabilities is an inspiration to all that suffer with sickness and pain. Songs like "One Thang", "One More River", "Same Train", and "Where He Leads Me" will definitely strike a cord with those who love to sing along with quartet classics. In fact, "One More River" really will remind you of a hot Sunday evening program in one of those little wooden churches in the deep south. This song and the instrumentation to accompany is just down home.
There is one song in particular that really falls into the Sweet Singing Cava-Leer song tradition. "Won't Have 2 Cry" has that bluesy Willie Banks feel that really has the potential for being a real fan favorite during LIVE performances. The CD also features a great song that represent something new in terms of sound for the Cava-Leers. The song that really jumps out is the interesting arrangement put on "If Loving God Is Wrong". The song starts leaving the listener wondering what direction it's is headed in. After the short musical intro you quickly realize that Rev. Easley is getting ready to treat you to a serious quartet drive. Simply put, the preacher doesn't disappoint you!!
On the whole this project represents yet another chapter in the book of great music for this powerful Los Angeles based group. I give The Sweet Singing Cava-Leers "At Our Best" a 8.5 out of 10. If you would like to hear a song from this CD you may listen to "Won't Have 2 Cry" by clicking HERE. Add this project to your collection today by calling Quartet Boyz Records at (903) 372-6980. The project is currently being distributed by Gonzalez Music so if you would like to order from your local record shop please let them know this information.