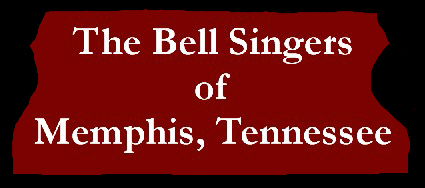 ---
The Bell Singers
of
Memphis, Tennessee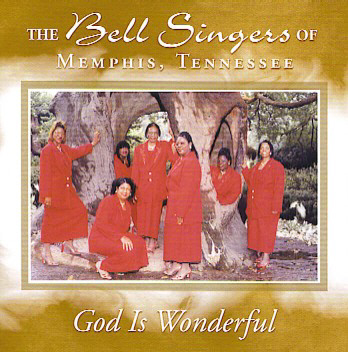 God Is Wonderful
This month we spotlight a true hidden treasure from the state of Tennessee. The Bell Singers of Memphis, Tennessee is that treasure. This is an exceptionally good group. They deserve to be on the national stage. Often, local or regional groups will championed the fact that they have appeared on stage with various major artists. And in their press package The Bell Singers do just that. However, it is safe to say that very soon groups will be adding to their press package that they have appeared with The Bell Singers of Memphis, Tennessee.
They are not new to the recording industry. They have five prior recordings to their credit. Their new project is titled "God Is Wonderful." And this is a "Wonderful" project. From the first tract which is the title of the CD to the thirteenth and final tract "He's Coming," you will find nothing but good traditional gospel quartet music with a down home feel to it.
To say that these ladies can sing is putting it lightly. They are vocally very versatile. In fact, it appears from the credits on the CD liner that each member of the group sings lead. In addition, you will appreciate the musical arrangement of each of the songs.
The opening song is upbeat and gets you in the mood to praise and worship with The Bell Singers. It is always important for songs to have a good message, and we must say that each of the songs on this CD have a powerful message. Just look at the title of the other songs, "Thank You Lord," "I'll Wait Right Here," "God Is Good," "So Glad," "Sit Down With Jesus," "On Calvary," "Fix It Jesus," "We Need To Pray," "He'll Work It Out," "Just A Closer Walk," and "I'll Make It Alright."
One song that should have you shaking your head and reflecting on life is "God Is Good." It is a slow tempo song, but it will certainly lift your spirit when you are not having a good day. The song provides a great reminder of just how good God is to all of us. The song that will probably have you tapping your feet and clapping your hands (and is the closest song to what may be considered a drive song on the CD) is "Sit Down With Jesus." It appears at times that the musicians wanted to get into a "jam session." on this song. We appreciate the fact, however, that the musicians do not overshadow the singers on any of the songs. There is just the right amount of instrumentation on each song.
It is difficult to find a weakness to this project. In deed it is such a strong project, that it should have been a LIVE recording. It would be an added joy to see The Bell Singers performing these songs on video.
So if someone asks you where the good female gospel quartet groups are, start by referring them to The Bell Singers of Memphis, Tennessee. They will not be disappointed.
On the whole this release from The Bell Singers of Memphis, Tennessee is a great traditional gospel quartet CD. We give The Bell Singers of Memphis, Tennessee "God Is Wonderful" an 8.5 out of 10. To order this project contact the group at (901) 384-6979. Click on the title to hear "Fix It Jesus."